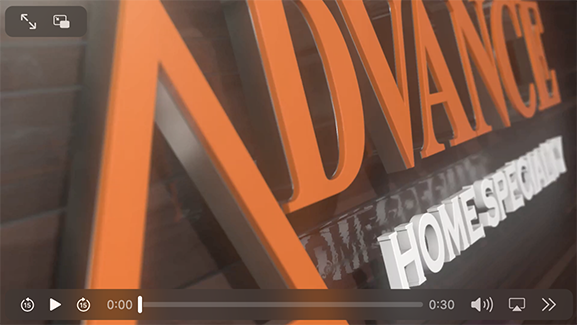 Shelving is the most underrated yet crucial part of an organized home. It can live in every nook and cranny of your garage, bedroom, pantry, wet bar, rec room, storage areas, and the list can go on.
When your home has the proper closet shelving, it becomes much easier to be organized, providing ample space for all your family's needs. With so many styles, options, and prices to choose from, Advance Home Specialty will set you up with the perfect solution for all your spaces.
Outfitting and Installing Your Closet Shelving with Ease
There is no shortage of ways to effectively and beautifully use custom shelving in your home's pantries, closets, and storage areas. The team at Advance Home Specialty can outfit every part of your home to accommodate absolutely anything and utilize every square inch:
Reach-in Closet Shelving. We offer a huge selection of custom shelving options for every bedroom and entryway in the home. Let us know what you are looking for, and let our team measure your space and provide various options. Reach-in closets can accommodate clothing rods, upper shelves for storage and seasonal items, drawers and shelves, over-the-door racks, and more.
Walk-in Closet Shelving. Walk-in closets provide homeowners with many different options to meet their needs. Our team can outfit every inch of space to be functional and suit your home's design and style. With options to suit every budget and limitless possibilities, let the experts at Advance Home Specialty create the walk-in closet of your dreams.
Garage Closet Solutions. Typically an underused space, the garage offers ample opportunity to create storage for tools, gardening supplies, and seasonal items. Wall-mounted shelving, hooks, storage bins, and baskets will make excellent use of your workspace.
Other Home Storage. There are nearly uncountable spots in the home to use our closet shelving solutions. Outfit your mudroom, laundry room, and kitchen to ensure every backpack, measuring tape, and dog collar has a home.
Advance Home Specialty: Providing Middle Georgia with Custom Shelving Solutions
Don't let clutter and underutilized space get you down. Instead, make every inch count with perfectly planned closet solutions. Reach out to the sales experts at Advance Home Specialty by filling out a website contact form or by calling 478-956-7215.
Closet & Shelving Systems
Organizing your home can sometimes be a grueling process. There is no need to let it overwhelm you–we are here to help! Here at Advance Home Specialty we offer custom built closets and pantries, as well as a top notch selection of closet and shelving systems and organizers. See below for the list of options.
Contact us today!